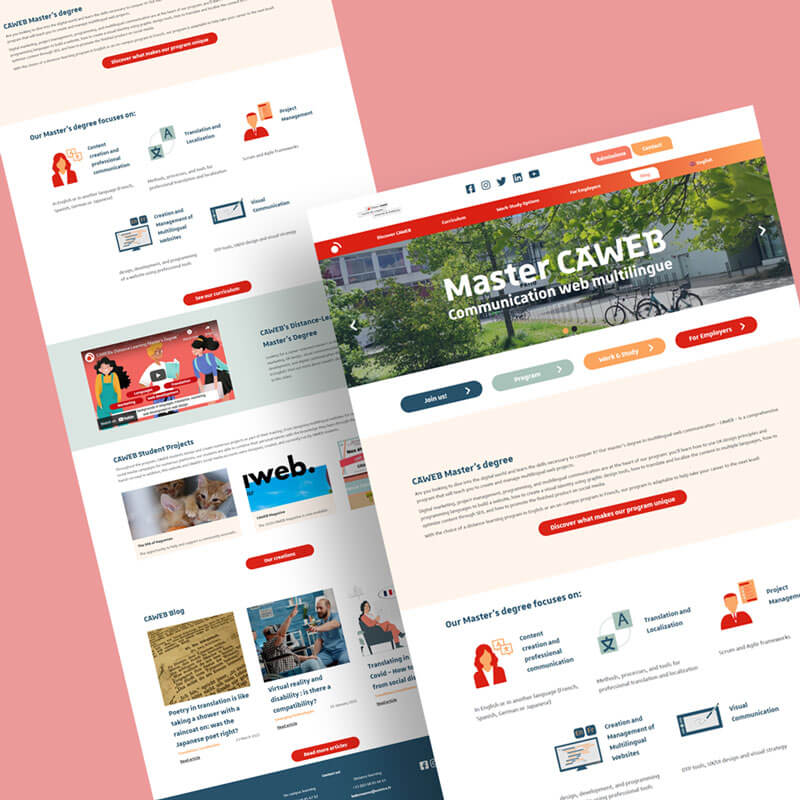 This student project took a year to accomplish – it was an important part of the second year of the master's program and I was the project manager.
I was responsible for the following:
Management of a 20 people team
Creating 5 strategic pillars to accomplish the objectives:

Technical – what concerns the performance of the website
Editorial – every week we had to publish an article in both English and French relevant to the domain of the Master (then use the advantage for further social communication)
Social Media – Bring social awareness and engagement
Graphical – Social media support, content media creation, and print
SEO – Online visibility improvement, analysis and optimization of the existing website
Physical and remote team management (during their holidays,  apprenticeships, and Master's visits to San Fransisco and Cape Town)
Conflict-solving
Increase master's visibility – improve SEO
Enrich social media with graphical content and increase the number of subscribers
Improve our blog – more publications and translations
Graphical redesign for print and web
Reduce the loading time of the site, and correct the biggest technical problems 
Thoroughly explain to team members their tasks and help/guide them in their work. Maintain good communication with internal and external parties. 
Motivate everyone in the teams to perform their respective tasks without conflict.
Delegate the appropriate tasks to the team leaders so that everything goes as planned.
Add Google Analytics to the site.
Create the Benchmark and compare it with our biggest competitors.
Reporting
Create a document containing all the proposals, advice, graphic models, and tree structure for the handover.
Trello
Figma
WordPress
Photoshop, Illustrator, InDesign, Premiere Pro, After Effects
Google Suite
Google Analytics…
I conducted the market research in the form of a benchmark that I have then compared with our biggest competitors. This document was then shared with the head of the Master's program. Below, is the look of the website before our project started.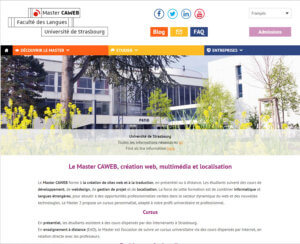 To improve the existing situation, we had to understand the website visitors. Therefore, we had to divide it into two categories:
Recruiters – aka companies working with the master to hire its students for the mandatory apprenticeship throughout the entire second year
Visitors – aka potential students searching for the right information and a possibility to enroll
The program holds a strong differentiation aspect – internship, apprenticeship, and visiting trips to international companies
Companies need to have a clear flow to get the information they need and contact us
Visitors (potential students) also need a clear flow to get the information they need and an easy way to enroll
I gathered a lot of experience through this project, especially in people management and technical and graphical comprehension. Having met all our objectives I am very happy to have taken the role of project manager.